The snow continued to fall throughout the weekend. Lots of driveway clearing and shoveling, but it wasn't as bad as we were expecting. Feeling exhausted today though. When we took Cody for a walk, he had such a struggle through the deep snow in the soccer field ... and so did we! Up to our knees in snow, trudge, trudge, trudge ... good thing I like winter ... unfortunately, my husband does not. :[
Our shed and patio table are holding a lot of snow. I think the table is nearing its load capacity!
There's a gastro epidemic sweeping through my dad's nursing home, so all visitors have been banned until they give the all clear. I found myself home with an unexpected day to do whatever I wanted ... a nice break from winter driving to see Dad. I decided to put some yarn to the needles, and after a lot of calculating aggravation, have got into full swing with knitting. It's always so nice to knit indoors when the winter snows are swirling around outside the windows ... cozy :)
I'll reveal more when I get a little further along. It involves some cables, which I love to work on, and then it's just straight knitting back and forth, back and forth. Lately, any knitting I've been doing has been on DPNs in the round. This is a nice change, although the needles seem huge after the tiny needles I've been using.
Well, that's all for today ... short and sweet!
Wendy
Linking up with
Judith
for Mosaic Monday.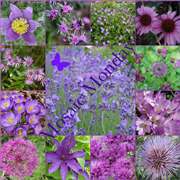 Thanks for stopping by!